Founded: 2015
Updated: 30 / 09 / 2019
subject Video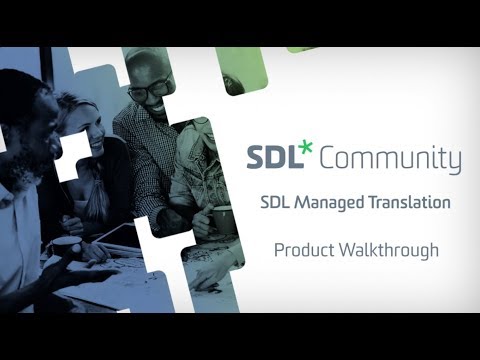 play_arrow
info_outline About
SDL Managed Translation is geared towards enterprise translation and localization teams that manage large volumes of language work in a visual way and collaborate with SDL as one of services vendors. Cloud-based and easy to use, SDL Managed Translation (ManTra) works as a client portal complete with a graphic interface and a set of dashboards, and it is powered by SDL TMS in the backend. It's the newest product in the range of SDL's management software.
Components
Dashboards and reporting
A set of 28+ pull CMS connectors and additional push connectors (CMS plugins)
Web editor for in-context client review
RESTful API
Workflow builder
Support for single sign-on
Translation memory, terminology management and machine translation integrated
Best for
In-house translation and localization teams with significant volumes that use SDL as one of the vendors and prefer to keep the configuration and server maintenance effort on the vendor side.
History
SDL Managed Translation has been launched in 2015 as an effort to provide a modern and easy to use UI to SDL's TMS. It serves as SDL's answer to the rise of Cloud-based technologies that are disrupting translation management space, such as XTM, Memsource, Lingotek, and Smartling.
The full range of SDL's management products now includes the following titles:
SDL WorldServer — on-premise customizable solution for the enterprise
SDL Managed Translation + SDL TMS — Cloud-based solution for mid-market
SDL GroupShare — group collaboration system used on top of SDL Trados in both vendor and buyer teams
MultiTrans TMS — a solution acquired alongside Donnelley Language Services, a full-scale TMS geared towards documentation localization
image Screenshots
local_atm Pricing
Team Pricing
SDL Managed Translation is only available as a Cloud Service. The typical deal size falls in the $20,000 – $50,000 range.
For larger enterprises with more complex requirements, the price is provided on request based on system throughput, the number of users and the modules and connectors required. Hosting is included in the license fee. A surcharge applies for customers requiring dedicated infrastructure, multiple environments, or for hosting to be provided from a specific geographic region. The license fee also includes a Managed Service element for customers that want to outsource the ownership and maintenance of their system to SDL.